Managing Reputational Risk: How senior leaders can build trust in their organizations
Learn why your corporate reputation matters more than ever.
Your senior leaders have a lot on their plates. The pace of technology and business change has profoundly altered their roles and what is expected of them.
With the public growing more skeptical of organizations and their leaders, building, protecting and maintaining corporate reputation is undeniably the most important responsibility of today's senior executives. But many organizations don't yet understand how to measure and manage its impact. They need to operate your company with greater transparency—and they need your help to do it!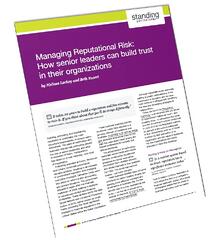 In this white paper, industry leaders Melissa Lackey and Beth Rusert share how you can:
Help align your business operations with its social impact and financial stability.

Build a strong and enduring organizational reputation.
Complete the form to download this resource today!
Download now: